Swamp monster wooden walking stick cane
GC-Artis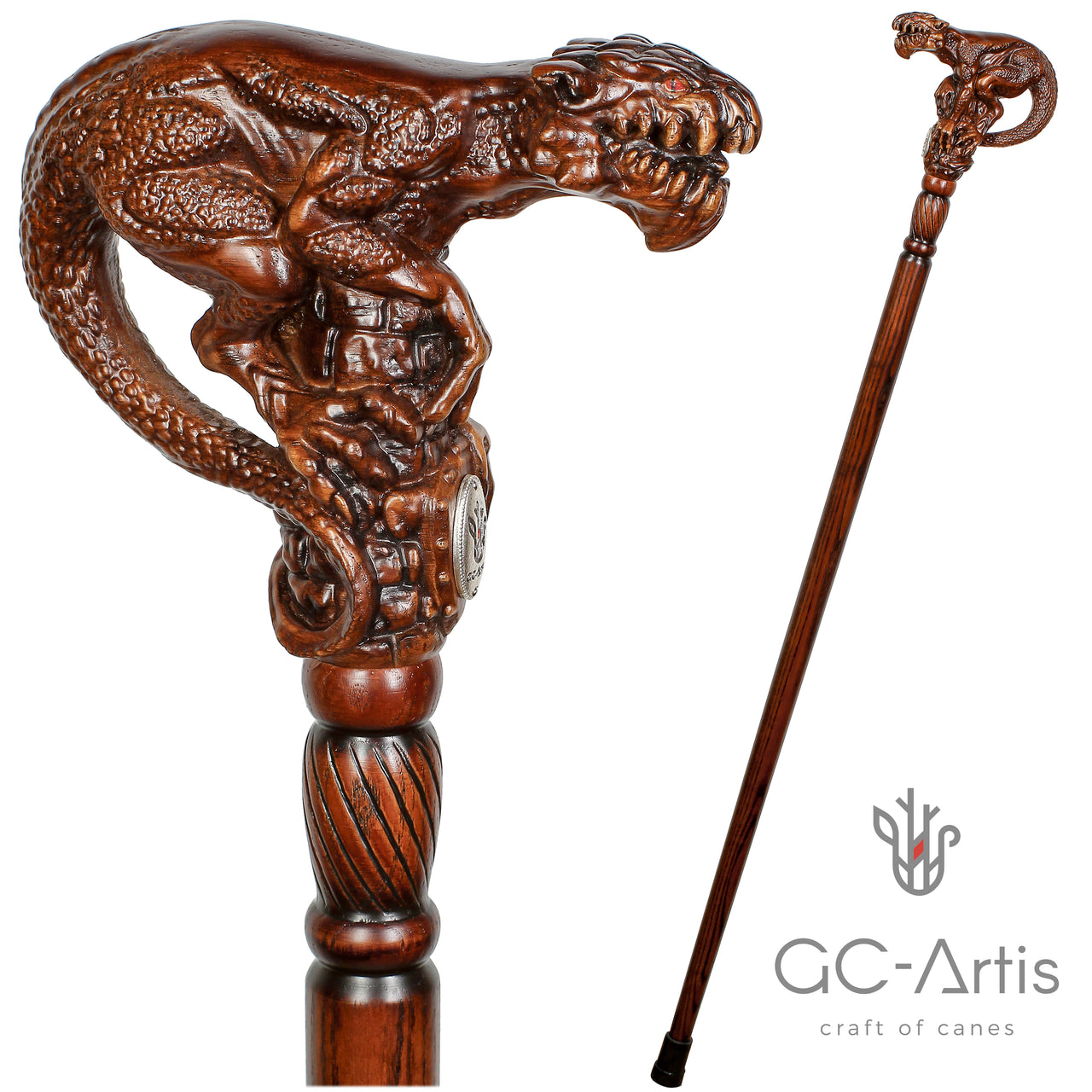 Swamp Monster - Wooden walking cane
Designers Art wood carved crafted Walking stick cane - directly from Maestro
Designed by GC-ARTIS Workshop, Ukraine (Eastern Europe)
This Goth style Handmade Walking cane stick is new, reliable and fully functional has very comfortable handle. This is done with love from a natural material and carries a strong energy to its owner: We used an Oak which is deeply meaningful in mythology - slow growth, very strong and impressive wood
Wood Art in function!
SIZE: up to 36 inches in length
SUPPORTS: up to 250 lbs
WEIGHT: 450 gram approx
HANDLE MATERIAL: OAK wood
SHAFT MATERIAL: OAK Wood
ARTIST: Maestro Vovk. V.
PROCESSING: Woodcarving
USE: unisex, for men & women, well for right hand & left hand
FUNCTION: This horror walking stick well for men & women, like for an art collectors or they who looking for a and best gift idea to Birthday. It may be used like an fashion accessories underlining individual style at walking on city streets, at walking on wild district & mushroom hunting, for Protection against wild animals and like an a pleasant walking instrument companion. Also this hand carved walking cane will be unusual props for an original photo / video set, theater or movie staging & stylish accessories for a costume party, Halloween, Burning Man festival an etc.
Materials: Wood, oak, solid wood

-----------------------------------------------------------------------------
Caution! This walking cane is a fully functional & probably it more convenient than a most of usual canes but if you have serious musculoskeletal disease or are prone to fall or have suffered surgery after a fracture / insertion of an artificial limb or artificial bone / joint, then we do not recommend to use this cane before consultation and approval by your doctor only