OWL & Skull Walking Cane Hiking Stick Staff Trekking Pole
GC-Artis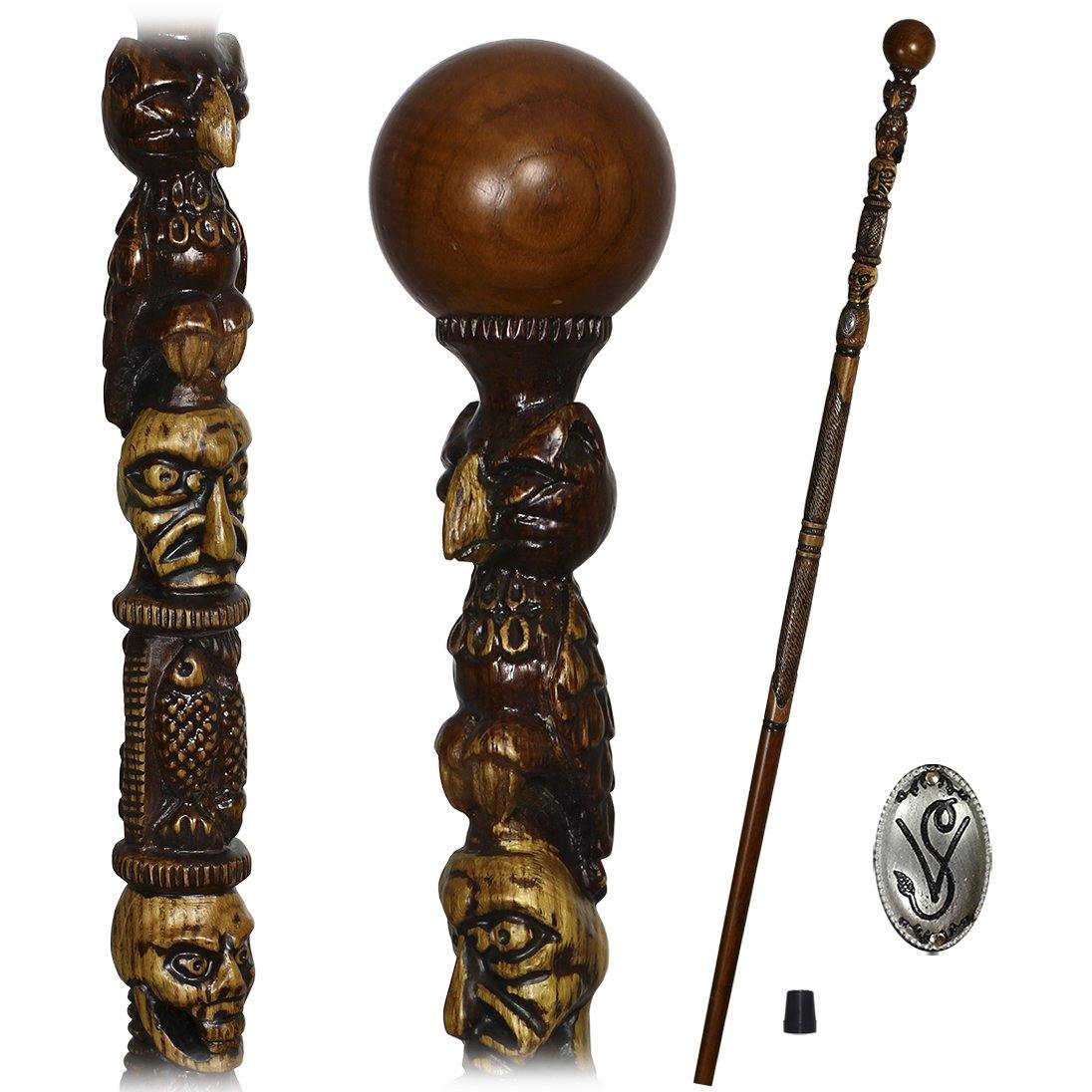 The OWL & Skull Shamanic Totem with a wooden ball Knob
Extra long wood carved crafted high-quality walking/hiking stick staff or cane

It has been designed by GC Artis Workshop, Ukraine. ORIGINAL CANE HAS THE METAL MEDALLION with the ARTIST'S LOGO!

Consist of 3 parts: all sections are connected by reliable screw connection.
It's a really Emotional Energy Wood Art directly from Maestro Woodcarver.
This is done with love from a natural material and carries a strong energy to its owner: We used an Oak which is deeply meaningful in mythology - slow growth, very strong and impressive wood
CONDITION: New
SIZE: up to 56 inches in length
SUPPORTS: up to 300 lbs
USE: unisex, well for right-handers and Left-handers
HANDLE MATERIALS: Solid OAK or ASH wood
SHAFT MATERIALS: Solid OAK or ASH wood
WEIGHT: 680 gram approx
PROCESSING: Most of operations are made manually
ARTIST: Ukrainian artist Maestro SHESTOPALOV SERGIY
Composition:
This fine specimen is fitting shamanic ritual: The cane is arranged in a totem style, blending western and other traditions, in an extremely flowing style, maximizing the natural tone and texture of wood, impressively, without compromising function - this walking cane is comfortable and deep - this is no native art. This is magic!..
The main theme is that of wisdom, death and revival, as well as elemental fire and water in unison:
The owl, a messenger between the realms of dark and light, Pallas Athenas' totem animal, is deeply engraved at the top of the cane, just beneath the perfectly round handle.
A Pacific style ancestor head figure (seemingly influenced by Polynesian art), followed down by two complementary symbols of fire and water - the Salamander vis a vis two fish, beneath which there is a scull.
The engraving is impressive, the wood - excellent, sturdy, the varnish is smooth and is endowed with a dark deep hue, adding to the visual effect.
The cane is engraved in tribal natural stone like texture down to the middle of this long 56" ritual totem cane, mediated by smooth rings of wood,
Every detail is meant to maximize the natural aesthetic traits of wood. And how successful this effect is!!.
This is a real unique MASTERPIECE.... But it's not just art...it is a very reliable and effective walking stick
FUNCTION: It well for those who use it that wishes to have additional accessories underlining individual style at walking on city streets, that who wishes to receive convenience at walking on wild district and perhaps they who find a Stick useful for Protection against wild animals and they who want a pleasant walking instrument companion.
It is cut so that it is perfectly balanced to walk a really conveniently and It has raised reliability.
-----------------------------------------------------------------------------
Caution! This walking cane is a fully functional & probably it more convenient than a most of usual canes but if you have serious musculoskeletal disease or are prone to fall or have suffered surgery after a fracture / insertion of an artificial limb or artificial bone / joint, then we do not recommend to use this cane before consultation and approval by your doctor only