Lizard & Flower Ladies Hand Carved Walking Stick
GC-Artis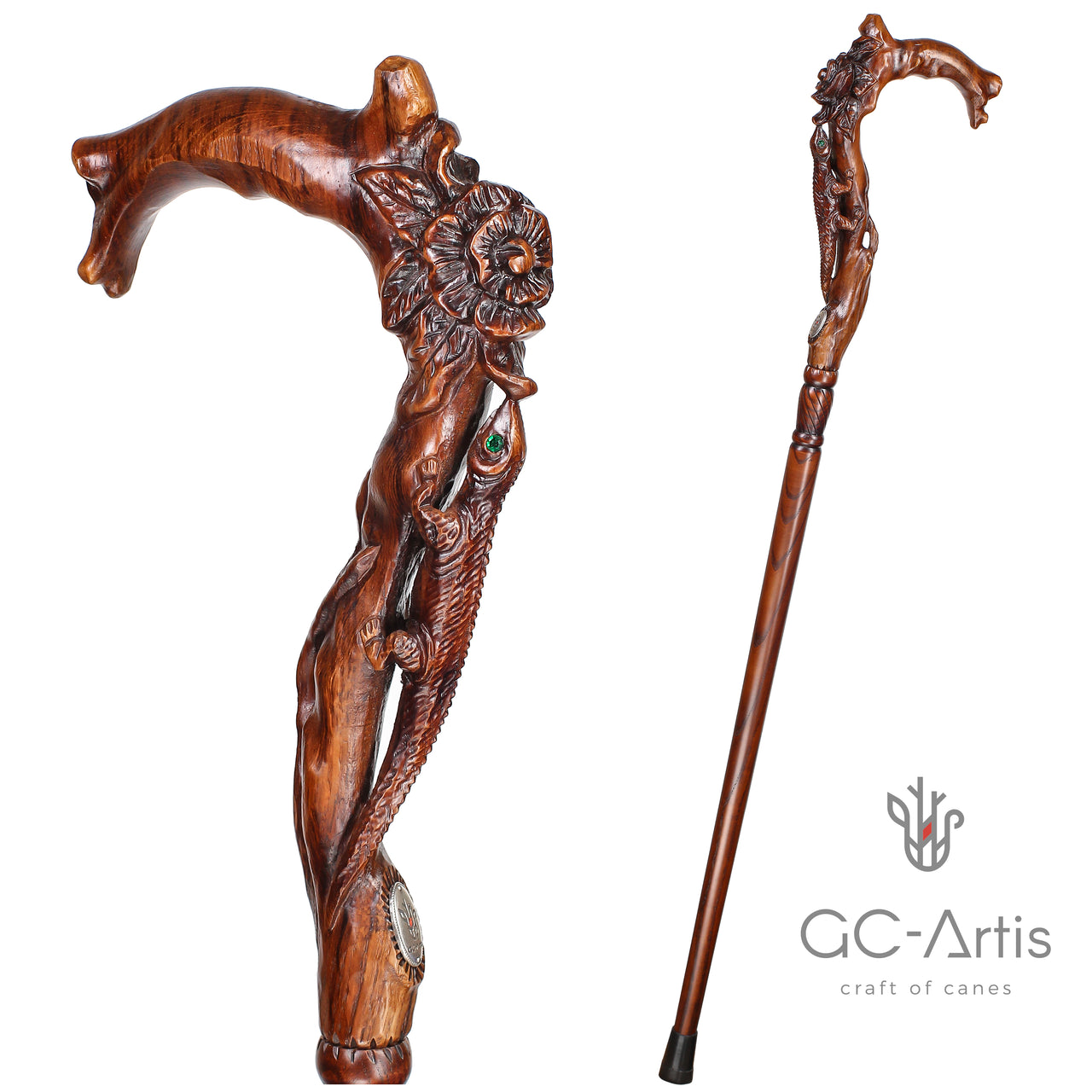 Lizard Flower - Dark Wooden Walking Cane
Unique Designer Art Wood Crafted Hand carved Walking Stick Cane for women
New, reliable and fully functional Elegant Stylish Wooden Cane Walking stick
Designed & handmade by GC-ARTIS Workshop, Ukraine (Eastern Europe)
ORIGINAL CANE HAS THE METAL MEDALLION with the ARTIST LOGO!
Art in function directly from the Maestro Woodcarver!
Fordable - consist of 2 parts: handle and shaft are connected by screw
SIZE: up to 36'' / 925 cm
SUPPORTS: up to 240 lbs
WEIGHT: 480 gram
HANDLE MATERIAL: OAK wood
SHAFT MATERIAL: OAK wood
ARTIST: SHESTOPALOV SERGIY
PROCESSING: Woodcarving
USE: for ladies, women, fits for right hand & left hand
FUNCTION: This Flower wooden walking stick well for ladies & women, old elderly people like for an art collectors or they who looking for a and best gift idea to Birthday, Mother's day / Veteran's day. It may be used like an fashion accessories underlining individual style at walking on city streets, at walking on wild district & mushroom hunting, for Protection against wild animals and like an a pleasant walking instrument companion. Also this elegant carved walking cane will be unusual props for an original photo / video set, theater or movie staging & stylish accessory for a costume party.
COMPOSITION: 
Both Lizard and Flower relate to the Fire Element - of Creativity through integration and intuition
Lizard sunbathing symbolizes opening up to new ideas and accepting the blessings of fire regularly in order to survive - striving at all times to evolve integration power for enhanced adaptability and function at all times. The lizard ascends along this cane, to bask at the light of the end product of growth - the flower of enlightenment and love
The Flower symbol is identical to the Sun in that respect: Growth of wood evolves into the fire of the flowers attracting insects. These insects are the Lizards' pray. so here function is multi-leveled - both Flower and Lizard need insects. the Lizard does benefit from the flowers' exposure as such.
The message of this walking stick, then, is one of balance: exposure and beauty.
Lizard and Flower together manifest appreciation of all the assets of knowledge and earthly life adaptability.
Materials: Wood, Wooden, Oak, solid wood, hard wood
-----------------------------------------------------------------------------
Caution! This walking cane is a fully functional & probably it more convenient than a most of usual canes but if you have serious musculoskeletal disease or are prone to fall or have suffered surgery after a fracture / insertion of an artificial limb or artificial bone / joint, then we do not recommend to use this cane before consultation and approval by your doctor only