LION & IMPALA Light Wooden cane walking stick
GC-Artis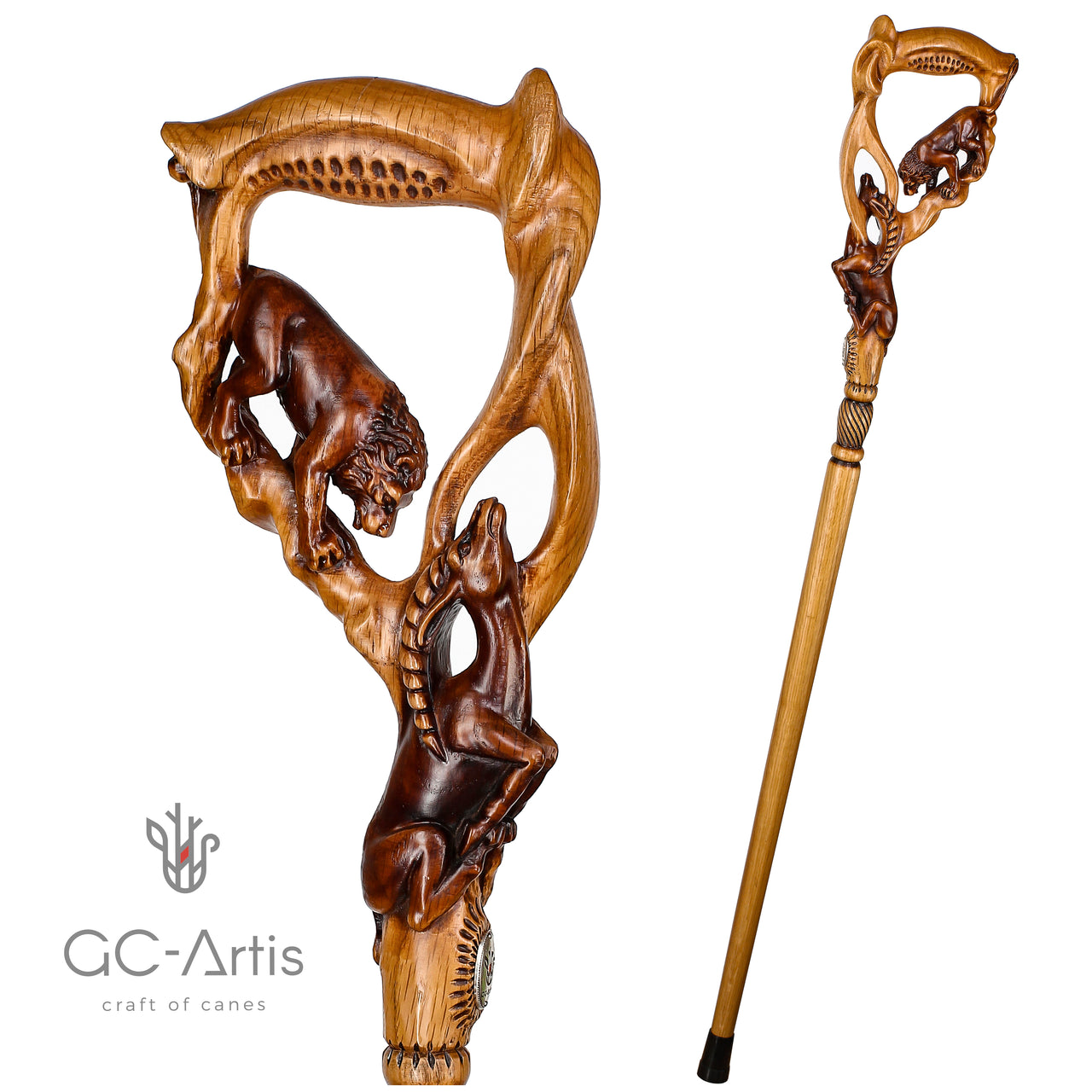 The Lion hunting Impala - Light Color Walking Cane
High quality designer art hand carved wood crafted rich engraved walking stick cane
New, reliable and fully functional Wooden Walking stick this ergonomic handle
This walking cane has been designed & handmade by GC-ARTIS Workshop, Ukraine (Eastern Europe). ORIGINAL CANE HAS THE METAL MEDALLION with the ARTIST LOGO!
This Lion Walking cane is Folding (made of two parts sections)
It is a real handmade masterpiece - Art in function directly from the Artist woodcarver
SIZE: up to 36'' / 92 cm
SUPPORTS: up to 250 lbs
WEIGHT: 550 gram approx
HANDLE MATERIAL: Solid OAK wood
SHAFT MATERIAL: Solid OAK wood
ARTIST: Maestro SHESTOPALOV SERGIY
PROCESSING: Woodcarving
USE: unisex, for men & women, for right hand ONLY!
FUNCTION: This wooden walking stick well for him & her, ladies & gentlemen, men & women, old elderly people like for an art collectors or they who looking for a best gift idea for his friend, wife, husband, grandfather, grandmother for his Birthday, Father's / Mother's or Veteran's day. Also this handmade walking cane may be used like an fashion accessories underlining individual style at walking on city streets, at walking on wild district & mushroom hunting, for Protection against wild animals and like an a pleasant walking instrument companion. Also this Carved Lion walking cane will be unusual props for an original photo / video set, theater or movie staging & stylish accessory for a costume party.
The cane has raised reliability. The master strengthens the handle by means of a wooden pin diameter of 8 mm inside.


COMPOSITION: The Lion is a symbol of self assertion - being focused into the hunt at the top of the food chain with self expression, masculinity and maintaining a harem of female lionesses for imprinting oneself forward - through the cubs - the Children as a spit of their father.
The Impala, on the other hand, is the expression of Altruism, at the bottom of the food chain, being one of many within a tribe - when finally hunted after running for its' life as fast as one can - the Impala reflects the choice to let go and give oneself in sacrifice, as pray.
Thus, the Impala is depicted beneath the lion, with her neck exposed - the Lion descending unto the willing pray, Sacrificing herself while letting the rest of the tribe survive for yet another day.
Using this cane punctuates the users' focus in life in balancing and harnessing individuation for the benefit of the common good - manifesting focus and willpower to maintain dominance within the pack (The Lion energy) with a genuine ambition to balance willpower with a sense of service for ones' tribe - family, community and country - as an authentic integrated balanced identity of being part of the collective (Impala energy).
Materials: wood, wooden, oak, solid wood, hard wood
-----------------------------------------------------------------------------
Caution! This walking cane is a fully functional & probably it more convenient than a most of usual canes but if you have serious musculoskeletal disease or are prone to fall or have suffered surgery after a fracture / insertion of an artificial limb or artificial bone / joint, then we do not recommend to use this cane before consultation and approval by your doctor only