Fantasy Dragon CANE Dark Wooden Walking Stick
GC-Artis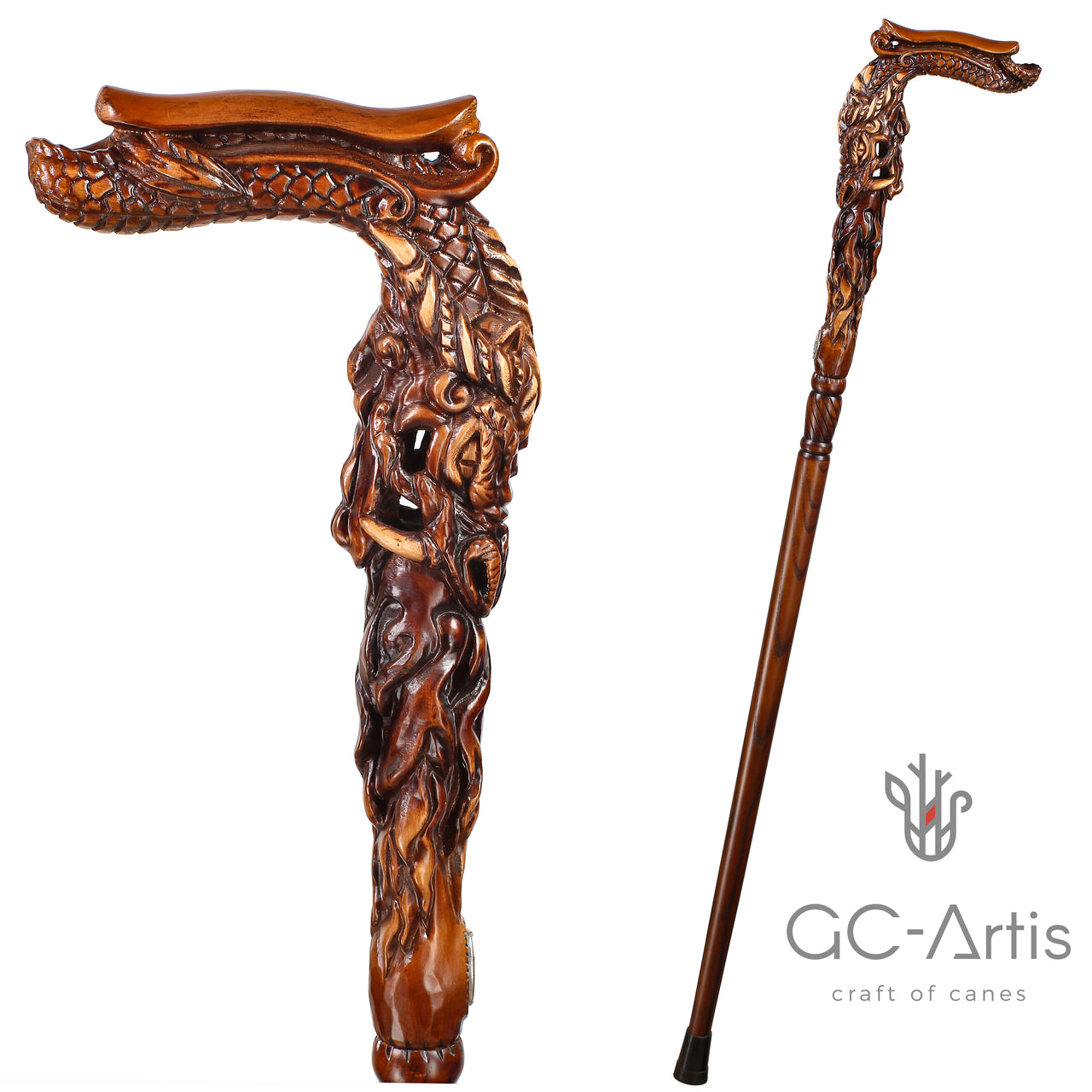 The Fiery Dragon - Dark Wood Walking cane
Fantasy Hand Carved Crafted Wooden Handle Walking Stick Cane with rubber tip
New, reliable and fully functional Wooden Cane Walking stick with ergonomic handle
This walking cane with Dragon has been designed & handmade by GC-ARTIS Workshop, Ukraine

ORIGINAL CANE HAS THE METAL MEDALLION with the ARTIST LOGO!
This Fantasy Wooden cane is Folding / Collapsible (made of two parts sections)
It is handmade masterpiece! Art in function - Directly from the Artist woodcarver
High craftsmanship and artistic woodcarving is really impressive. This is done  from a natural material and carries a strong energy to its owner
SIZE: up to 36 '' / 9 cm
SUPPORTS: up to 260 lbs
WEIGHT: 460 gram approx
HANDLE MATERIAL: Solid OAK wood
SHAFT MATERIAL: Solid OAK wood
ARTIST: Maestro SHESTOPALOV SERGIY
PROCESSING: Woodcarving
USE: unisex, for men & women, fits for right hand & left hand
FUNCTION: This wooden walking stick well for him & her, ladies & gentlemen, men & women, old elderly people like for an art collectors or they who looking for a best gift idea for his friend, wife, husband, grandfather, grandmother for his Birthday. Also this handmade walking cane may be used like an fashion accessories underlining individual style at walking on city streets, at walking on wild district & mushroom hunting, for Protection against wild animals and like an a pleasant walking instrument companion.
Also this Dragon walking cane will be unusual props for an original photo / video set, theater or movie staging & stylish accessory for a costume party like a Halloween.
COMPOSITION: The Dragon archetype is the epitome of the creative intensity of the masculine principle in nature. Sheer Energy does both destroy or nurture, depending on time, space and context of action: Dragon energy can Scorch in steaming heat to death, or humidify into lush growth - the end result depends on the ability to harness raw natural energy.
Imagine the harnessing in Iceland of the deep fires of the earth within for electricity through hydro steam power: The Dragon Typhon principle it is:
This Dragon Walking Stick reflects the deep connection of the owner to the depths of Earth and Fire in monster leashing of powers to be: grounded and creative, a Dragon Master, directing creative energy on all levels.
Using this cane reflects the intensity and creative force at the core of the owner - owning ones' power for the betterment of all.
Materials: Wood, wooden, oak, hard wood, solid wood
-----------------------------------------------------------------------------
Caution! This walking cane is a fully functional & probably it more convenient than a most of usual canes but if you have serious musculoskeletal disease or are prone to fall or have suffered surgery after a fracture / insertion of an artificial limb or artificial bone / joint, then we do not recommend to use this cane before consultation and approval by your doctor only