Wooden Cane Walking Stick Cobra Snake
GC-Artis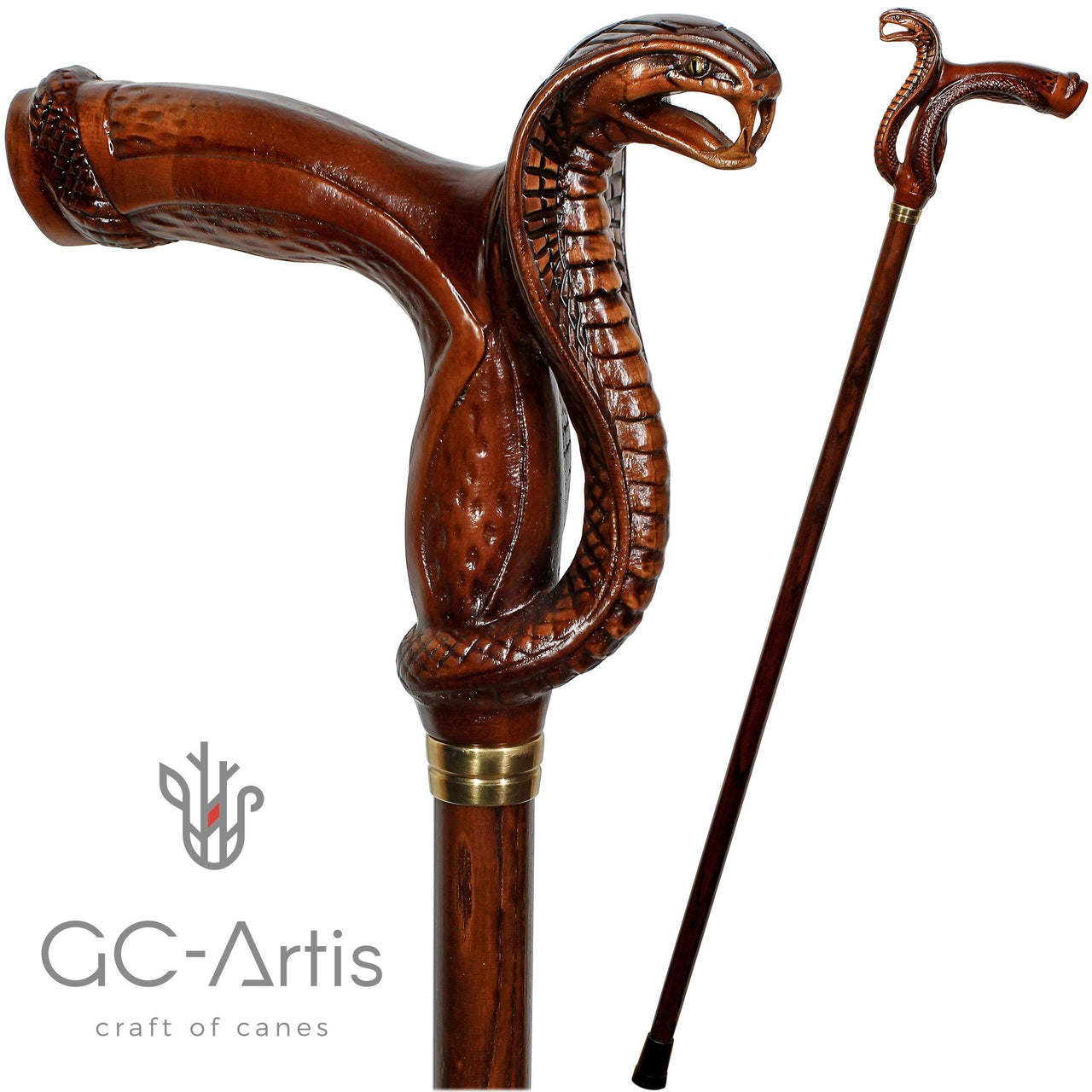 King Cobra Snake Walking cane - Dark Wood
New fully functional Stylish Wooden Walking Stick Cane for man & woman
-----------------------------------------------------------------------------
This Cobra walking cane designed in the GC Artis Creative Workshop, Ukraine
The Walking Stick is consist of two parts: the handle connected with the shaft using reliable 8 mm metal thread
This wooden cane is fully functional & comfortable. You will love a natural and pleasant to touch material of the handle.
CONDITION: New
SIZE: up to 36 inches in length
SUPPORTS: up to 200 lbs
USE: unisex, well for right-handers & Left handers
HANDLE MATERIALS: Solid ASH wood
SHAFT MATERIALS: Solid OAK or ASH wood
WEIGHT: 470 gram approx
PROCESSING: Woodworking
ARTIST: Maestro VoVk. V
-----------------------------------------------------------------------------
FUNCTION: This unique design cane fitting as an additional fashion accessory, underlying individual style for men & women, ladies & gentlemen over city avenues and suburb/village lanes, or walking in the wild district as additional Protection against wild animals as well as a pleasant walking instrument for old elderly people.
Also this stylish walking stick will be an excellent addition for any art collection, an original gift idea for Birthday, Mother's / Father's / Veteran's day or an unusual prop for an costume party, original photo set, theater or movie staging
It is designed to be perfectly balanced for walking conveniently in raised reliability.
-----------------------------------------------------------------------------
Caution! This walking cane is a fully functional & probably it more convenient than a most of usual canes but if you have serious musculoskeletal disease or are prone to fall or have suffered surgery after a fracture / insertion of an artificial limb or artificial bone / joint, then we do not recommend to use this cane before consultation and approval by your doctor only