Crocodile Alligator Hand carved Walking Cane Stick Hiking Staff
GC-Artis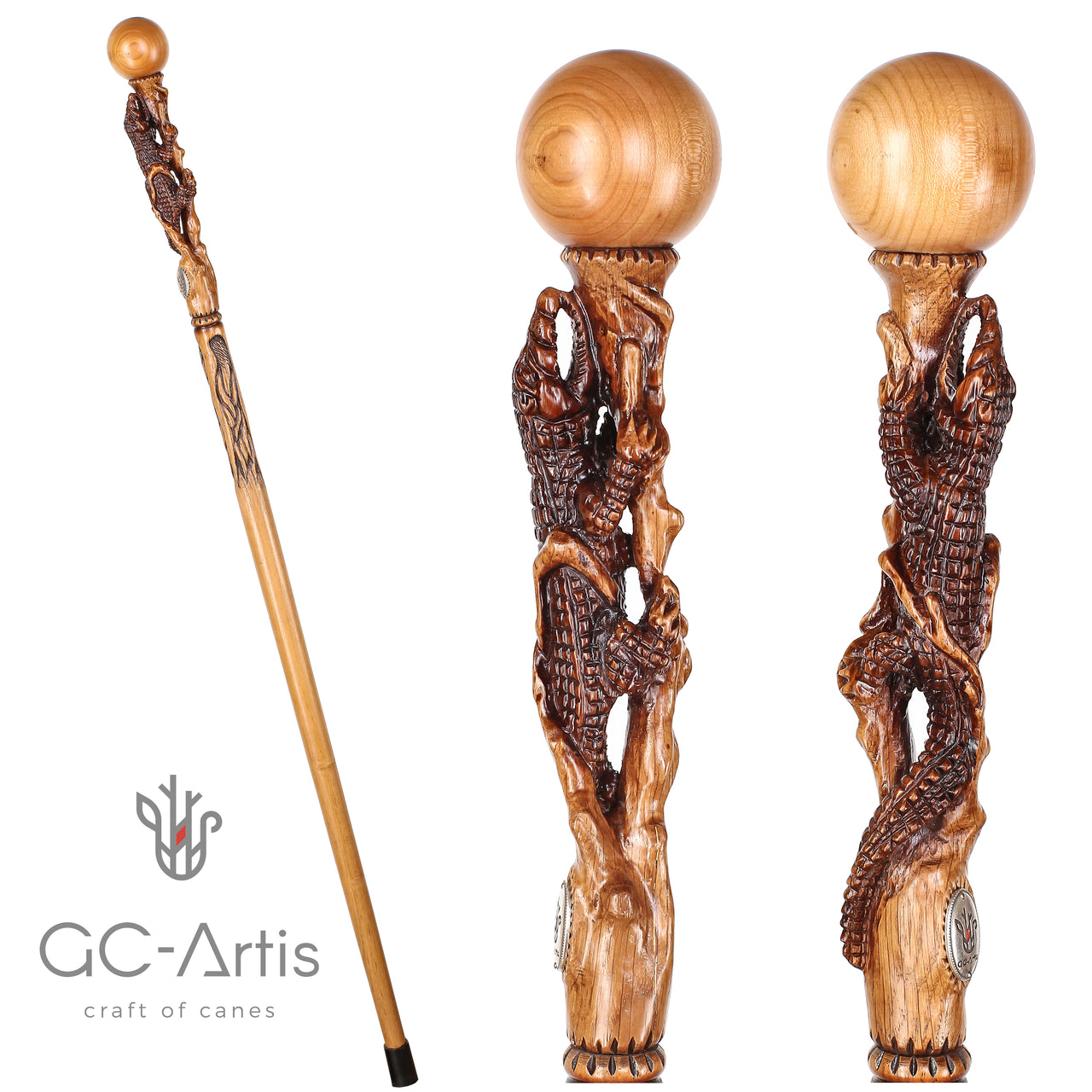 Crocodile / Alligator Light Wood walking cane
New fully functional Hand carved Crafted Walking hiking trekking stick staff cane


Wooden Walking Hiking Staff stick this ball top knob handle.
This walking stick has been designed by GC-ARTIS Workshop, Ukraine
ORIGINAL CANE HAS THE METALL MEDALION with the ARTIST LOGO!
It is folding (made of two parts - sections)
This is a real handmade masterpiece - Art in function!  Directly from the Artist woodcarver
SIZE: 36''/ 92 cm (please ask me for extra long shafts)
SUPPORTS: up to 240 lbs
WEIGHT: 420 gram
HANDLE MATERIAL: OAK wood
SHAFT MATERIAL: OAK wood
ARTIST: SHESTOPALOV SERGIY
PROCESSING: Woodcarving
USE: unisex, for men & women, fits for Right hand & left hand
FUNCTION: This wooden walking stick well for him & her, ladies & gentlemen, men & women, old elderly people like for an art collectors or they who looking for a best gift idea for his friend, wife, husband, grandfather, grandmother for his Birthday, Father's / Mother's or Veteran's day. Also this handmade walking cane may be used like an fashion accessories underlining individual style at walking on city streets, at walking on wild district & mushroom hunting, for Protection against wild animals and like an a pleasant walking instrument companion. Also this walking cane will be unusual props for an original photo / video set, theater or movie staging & stylish accessory for a costume party.
COMPOSITION: This non imposing, yet impressive cane is featuring a flow of spiral energy from the base of the top third part up - depicting the intricate deep energy of the crocodile.

There is good proportion of function and focus in view of the aesthetic themes engraved along the cane:
The base is a fine, well polished specimen of wood art. This base grows into a statement: The top part features the crocodile, arranged from the side of the artists' emblem up unto the round dark ball handle. This spiral energy floats upon a depiction of natural wood growth, lightly brown in color compared to the dark brown color of the crocodile and handle.
The intricate play of dark and light brown along this cane - draws attention to the crocodile figure, as it climbs up the cane, encrusted into a protective branch arrangement up to the top.
The Energy of the Crocodile is that of immense power and survival instinct in action and breath - including the ability to hold breath in deep waters as long as it takes until opportunity calls - patience, decisiveness, focus of action, invested with the will to bide ones' time as long as it takes
This is fine art and splendid function - embedded into one extremely impressive piece of art.
Do not ignore this - it is worth your gaze, and evermore so - your daily use"
Materials: wood, wooden
-----------------------------------------------------------------------------
Caution! This walking cane is a fully functional & probably it more convenient than a most of usual canes but if you have serious musculoskeletal disease or are prone to fall or have suffered surgery after a fracture / insertion of an artificial limb or artificial bone / joint, then we do not recommend to use this cane before consultation and approval by your doctor only