Collectible Dragon Snake Bronze Walking Stick Cane Brass Casted Artisan
GC-Artis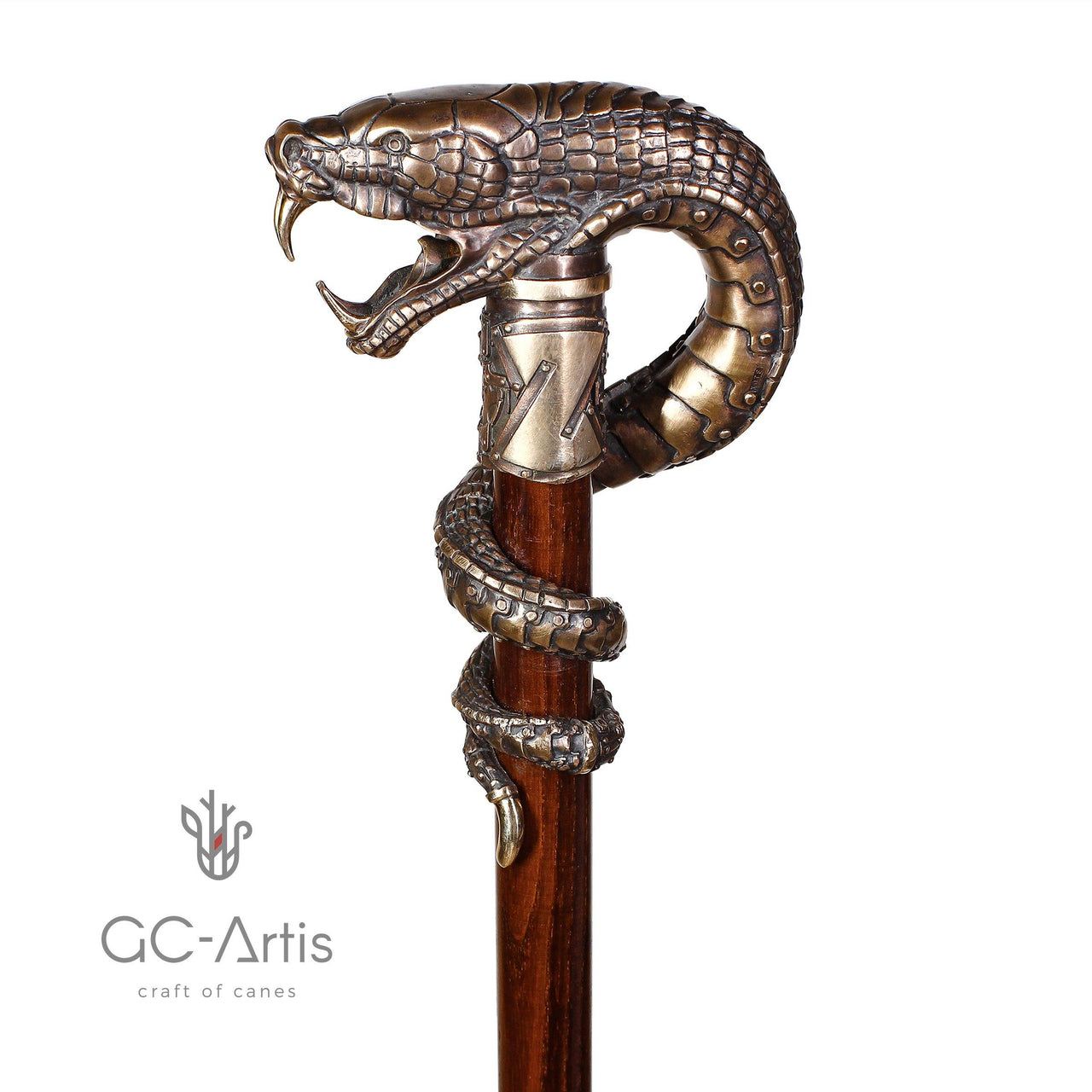 The Dragon-Snake - Bronze & Wood Walking Cane
Unique Collectible Walking Stick with Authenticated numbered certificate (#31 of 33)
-------------------------------------------------------------------------------------
Museum quality - Last 3 pc for sale only!
This is extremely limited edition cane designed last year in our GC-Artis Workshop as a custom order
The customer ask for discount and give me rights to make 30 copies for sale only:
He has taken first two copies already, and one copy will stay in my own collection
So now I'm happy to propose for sale one more copy of this beautiful piece 
This walking cane stick has a very detailed metal hand casted of solid Bronze / Brass Myth Dragon-Snake. It is really a very difficult and delicate work, made by traditional casting technologies with full stages: sketches, clay sculpting, casting in to several molds and spike the metal parts together, chasing and polishing and coating the patina with aging effect. I can send more more pictures how it's made.
Designed by GC-Artis Creative Workshop, Ukraine
ORIGINAL CANE has the Artist's signature on the handle and the Authenticated numbered certificate # 31 of 33
You can not find it anywhere in the world
CONDITION: New
SIZE: 36 inches in length
SUPPORTS: up to 200 lbs
USE: unisex, well for left-handers like for right-handers
HANDLE MATERIALS: Solid Bronze / Brass
SHAFT MATERIALS: Solid ash wood
WEIGHT: 800 gram approx
PROCESSING: Manual work including Sculpting, Casting and Vanishing
ARTIST: Ukrainian artist KOTENKO A.
FUNCTION: this antique style walking cane stick well for ladies & gentlemen's who use it that wishes to have additional fashion accessories underlining individual style at walking on city streets, men's & women's, who wishes to receive convenience at walking on wild district and perhaps they who find a Stick useful for Protection against wild animals and old elderly people who want a pleasant walking instrument companion.
Also this collectible cane walking stick will be excellent addition for any Art collection or an best gift idea for Mother's / Father's / Veteran's day like an unusual props for an original photo / video set, theater or movie staging & stylish accessory for a costume party
Also it will be excellent addition for you collection or an original gift or an unusual props for a original photo set, theater or video staging

-----------------------------------------------------------------------------
Caution! This walking cane is a fully functional & probably it more convenient than a most of usual canes but if you have serious musculoskeletal disease or are prone to fall or have suffered surgery after a fracture / insertion of an artificial limb or artificial bone / joint, then we do not recommend to use this cane before consultation and approval by your doctor only