BLACK CROW & SKULL Wooden Walking Stick Goth Style
GC-Artis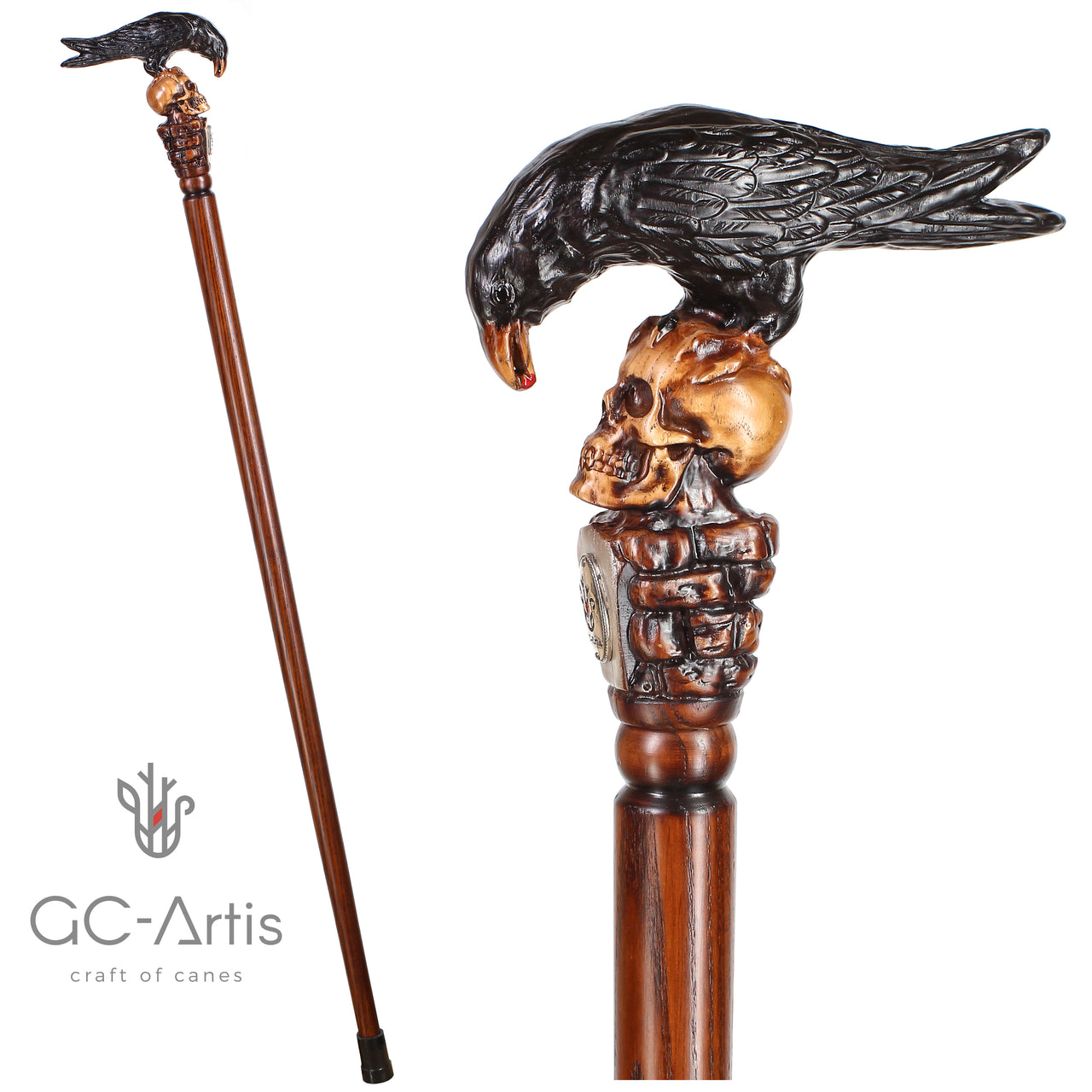 BLACK CROW & SKULL - Wooden walking cane
Wood Crafted Hand carved Walking Stick Cane
______________________________________________
New, reliable and fully functional Goth Style Wooden Cane Walking stick
This walking cane with skull has been designed by GC-ARTIS Workshop, Ukraine (Western Europe)
ORIGINAL CANE HAS THE METAL MEDALLION with the ARTIST LOGO!
This Fantasy Wooden cane is Folding (made of two parts sections)
It is a real handmade masterpiece - Art in function - Directly from the Artist woodcarver
SIZE: up to 36'' / 92 cm
SUPPORTS: up to 260 lbs
WEIGHT: 500 gram approx
HANDLE MATERIAL: Solid OAK wood
SHAFT MATERIAL: Solid OAK wood
ARTIST: Maestro SHESTOPALOV SERGIY
PROCESSING: Woodcarving
USE: unisex, for men & women,  fits for right hand & left hand
FUNCTION: well for him & her, ladies & gentlemen, men & women, old elderly people like for an art collectors or they who looking for a best gift idea for his friend, wife, husband, grandfather, grandmother for his Birthday. Also this handmade walking cane may be used like an fashion accessories underlining individual style at walking on city streets, at walking on wild district & mushroom hunting, for Protection against wild animals and like an a pleasant walking instrument companion. Also this Carved Raven & Skull walking cane will be unusual props for an original photo / video set, theater or movie staging & stylish accessory for a costume party like a Halloween.
The cane has raised reliability. The master strengthens the handle by means of a wooden pin diameter of 8 mm inside.

COMPOSITION:

The Raven / Crow is the messenger between the living and other worlds. Thus - Death is no impediment for the raven. The raven escorts the soul to other worlds, leading consciousness through the graveyards of concepts and anything that must be left bare and crumble into the essentials. The sheer need for transformation is served by connecting to the ravens' message - things should be buried in order to open the path towards living in truth.
Using this cane reflects a commitment for acknowledgment of truth, even in its raw form.
The Raven / Crow above the skull reflects a path of transcending death - anything that dies clears the path towards commitment to accept and live a rich, well informed, interconnected, deep rooted life experience - a life of truthfulness.
-----------------------------------------------------------------------------
Caution! This walking cane is a fully functional & probably it more convenient than a most of usual canes but if you have serious musculoskeletal disease or are prone to fall or have suffered surgery after a fracture / insertion of an artificial limb or artificial bone / joint, then we do not recommend to use this cane before consultation and approval by your doctor only