Walking Stick Cane Horse Solid Bronze & wood classic vintage style
GC-Artis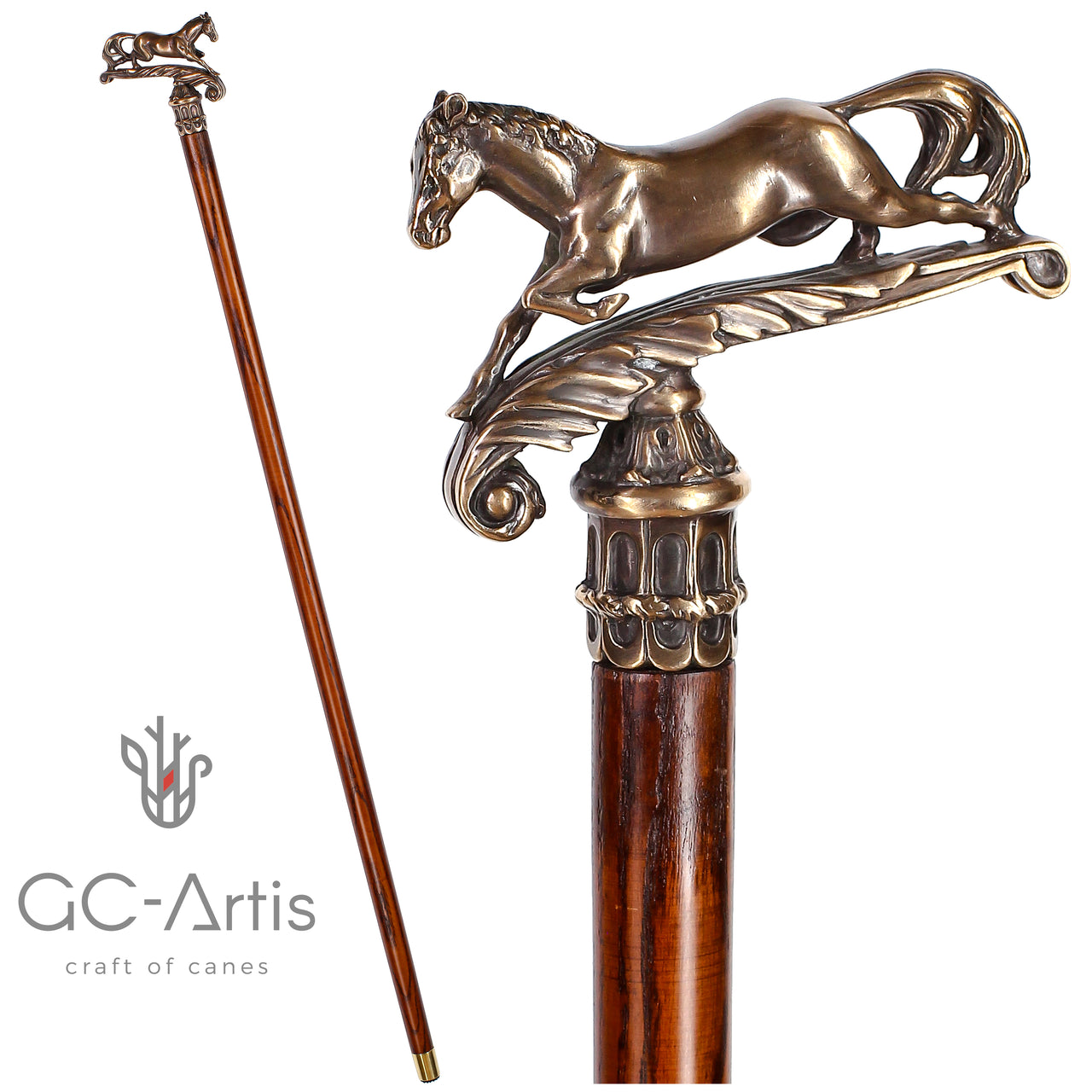 Museum quality Hand casted Solid Bronze Walking Stick or Cane
New Vintage Style Collectible Stick with a brass tip & wooden shaft
This is NOT a copy of the old stick stick of the 18-19 century
but the newly sculpted handle using a sketches and pictures of the original walking stick made by unknown maestro.
You can see a very detailed Horse figure Casted of Solid Brass / Bronze
We decided to make this amazing cane by the numerous of requests of our customers to preserve the magnificent design of the
Victorian era masters. So now any person will get a high quality piece of art which was available for viewing as an exhibit of the museum only before
Designed by our GC-Artis Creative Workshop, Ukraine
You will find the GC-Artis Logo & Artist's signature on the handle
You can not find it anywhere in the world except very little GC-Artis stores only
Made of two parts (the shaft connected with the handle by a screw pin)
CONDITION: New
SIZE: 35'' / 90 cm
SUPPORTS: up to 180 lbs
USE: unisex, well for left hand like for right hand
HANDLE MATERIALS: Solid Bronze / Brass
SHAFT MATERIALS: Solid ash wood
WEIGHT: 500 gram approx
PROCESSING: Manual work including Sculpting, Casting and Vanishing
ARTIST: Ukrainian artist KOTENKO A.
FUNCTION: It well for those who use it that wishes to have additional accessories underlining individual style at walking on city streets,
that who wishes to receive convenience at walking on wild district and perhaps they who find a Stick useful for Protection against wild animals and they who want a pleasant walking instrument companion.
Also it will be excellent addition for you collection or an original gift or an unusual props for a original photo set, theater or video staging
It is cut so that it is perfectly balanced to walk a really conveniently and It has raised reliability.
Materials: Bronze, Brass, Wood

-----------------------------------------------------------------------------
Caution! This walking cane is a fully functional & probably it more convenient than a most of usual canes but if you have serious musculoskeletal disease or are prone to fall or have suffered surgery after a fracture / insertion of an artificial limb or artificial bone / joint, then we do not recommend to use this cane before consultation and approval by your doctor only