Elegant ladies Female Light ivory color walking stick cane
GC-Artis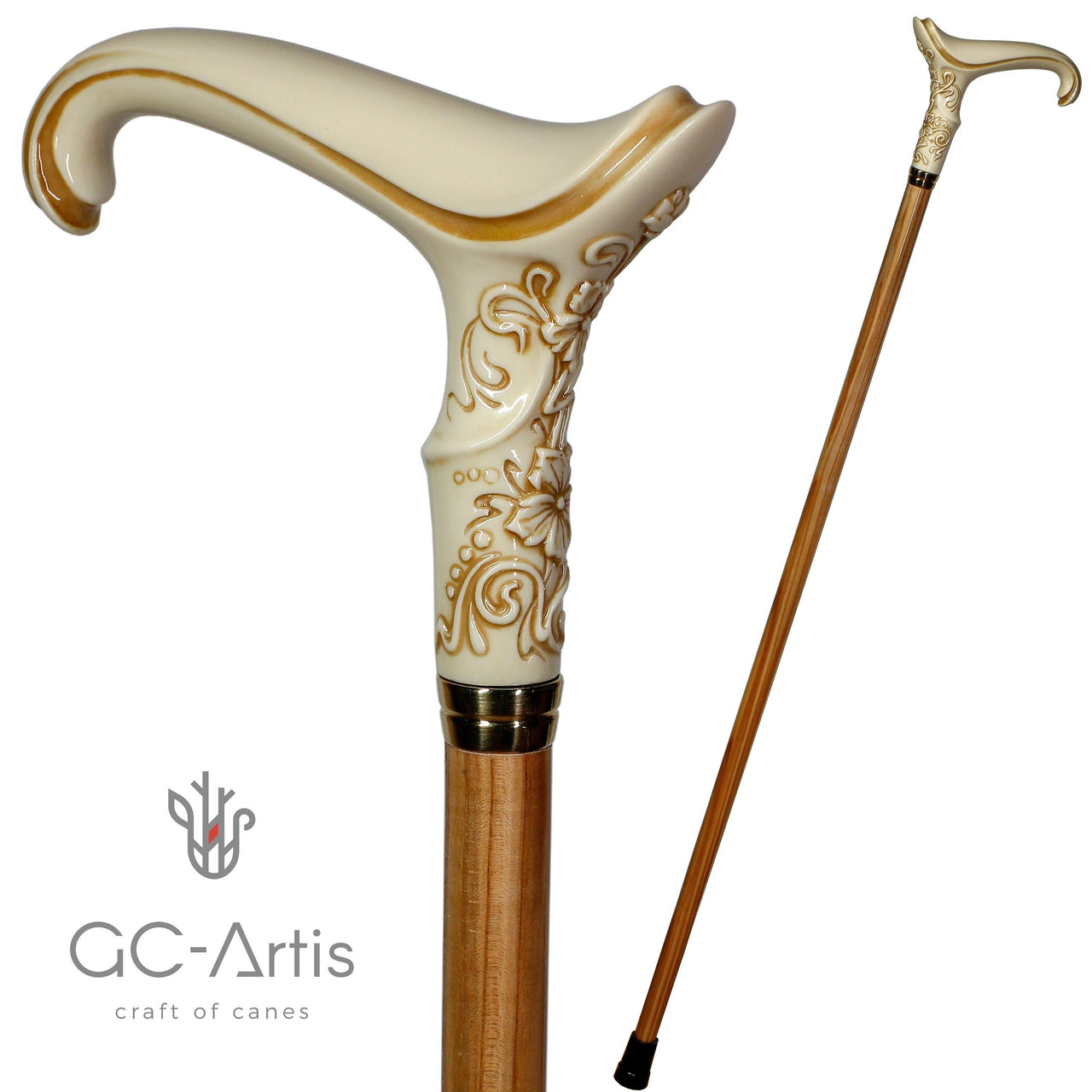 Elegy - Light Ivory Color Cane for Women
New Fully functional Ladies Female Fashion Walking Stick with wooden shaft
This Elegant walking stick has been designed by GC-Artis Creative Workshop
The handle is hand casted of Art Stone (polymer resin + natural stone powder inside).
It is NOT a plastic! It is very pleasant to touch material which pleasant to the touch and feels like a heavy cold stone. The Sculptured effect is not only refined and durable functionally - it is a work of art!
This cane is consist of two parts: the handle connected with the shaft using 8 mm screw connection
REAL MASTERPIECE! You can not find it anywhere in the world except very little GC-Artis stores only
Also it is a very reliable and effective walking stick, well for women.
CONDITION: New
SIZE: up to 36'' / 92 cm
SUPPORTS: up to 200 lb
USE: unisex, well for left hand like for right hand
HANDLE MATERIALS: Polymer Stone with glowing effect
SHAFT MATERIALS: Solid ash wood
COLLAR MATERIALS: Solid Bronze
WEIGHT: 450 gram approx
PROCESSING: 100% Manual work including Sculpting, Casting and Vanishing
ARTIST: VLADIMIR VOVK
FUNCTION: This elegant walking stick well for ladies & women, old elderly people like for an art collectors or they who looking for a and best gift idea to Birthday, Mother's day / Veteran's day. This pretty cane may be used like an fashion accessories underlining individual style at walking on city streets, at walking on wild district & mushroom hunting, for Protection against wild animals and like an a pleasant walking instrument companion. Also this wooden walking stick will be unusual props for an original photo / video set, theater or movie staging & stylish accessory for a costume party.
Also it will be excellent addition for you collection or an original gift, movie and theater props, and original holiday, weeding or other party stylish accessories

This cane is not certified as medical so it can be used those who need a support and aged people who might be prone to falls after consultation with doctor only.
CAUTION: Please take care of cane from falling onto a hard surface such as concrete or asphalt, or ceramic tile. It tends to fall if you left a cane to lean on the wall and can get a crack or fracture.
Materials: wood, Art Stone, Brass, Bronze.