Snake Cobra & Skull wooden walking cane stick hiking Staff light
GC-Artis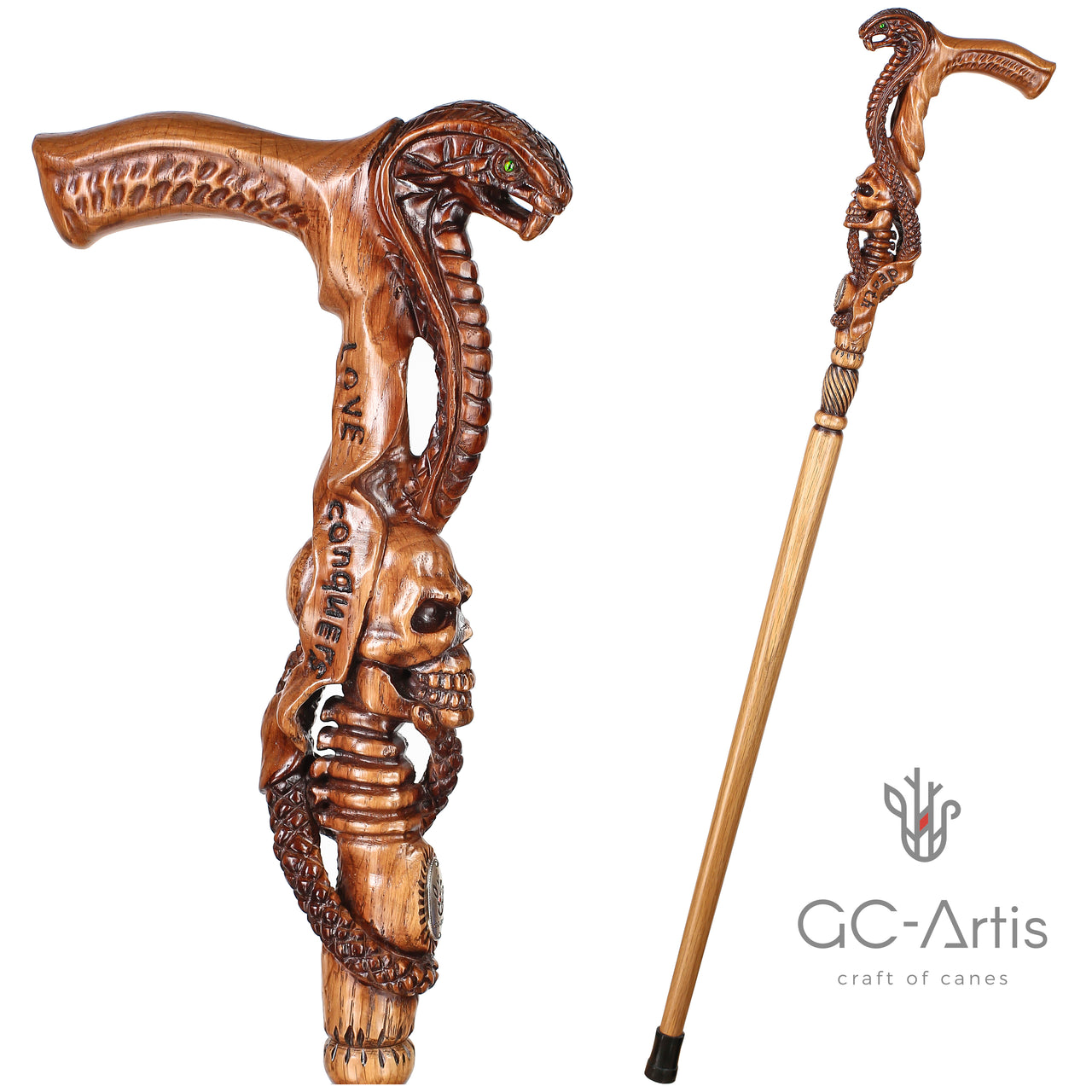 The Coba Snake & Skull - Light wooden cane
New fully functional Hand Crafted Wood Carved walking stick cane with ergonomic
This is Amazing Energy Wood Art Durectly from the Artist woodcarver... Art in function..
Done with love from a natural material and carries a strong energy to its owner
High craftsmanship and artistic maestro's woodcarving is really impressive.
Designed by GC-ARTIS Workshop, Ukraine. ORIGINAL CANE HAS THE METAL MEDALLION with the ARTIST LOGO
SIZE: up to 36'' / 92 cm
SUPPORTS: up to 250 lbs
WEIGHT: 480 gram
HANDLE MATERIAL: OAK wood
SHAFT MATERIAL: OAK wood
ARTIST: SHESTOPALOV SERGIY
PROCESSING: Woodcarving
USE: unisex, for men & women, fits for right hand & left hand
FUNCTION: This wooden walking stick well for him & her, ladies & gentlemen, men & women, old elderly people like for an art collectors or they who looking for a best gift idea for his friend, wife, husband, grandfather, grandmother for his Birthday, Father's / Mother's or Veteran's day. Also this handmade walking cane may be used like an fashion accessories underlining individual style at walking on city streets, at walking on wild district & mushroom hunting, for Protection against wild animals and like an a pleasant walking instrument companion. Also this skull & snake walking cane will be unusual props for an original photo / video set, theater or movie staging & stylish accessory for a costume party.
COMPOSITION:

The inscription on the handle says: "Love conquers death"
Both Snake and Skull symbols are about facing death and transformation as regal beings: the Skull is a sheer stare into deaths' path - an acknowledgment of the reduction of any plump reality into essential skeletal form when reaching a boiling down point into the here and now when change is pending.
The Royal Cobra reflects force and power dealing within nature, the exposure of the hood being a warning to respect that power. Female Cobras protect the young until hatched with his mother's love.
Using this cane is a statement of ferocity and regal pose in containing and transforming death - a superiority of the power of love over death
Materials: wood, wooden, oak, solid wood, hard wood
-----------------------------------------------------------------------------
Caution! This walking cane is a fully functional & probably it more convenient than a most of usual canes but if you have serious musculoskeletal disease or are prone to fall or have suffered surgery after a fracture / insertion of an artificial limb or artificial bone / joint, then we do not recommend to use this cane before consultation and approval by your doctor only