Grape & Vines Richly Engraved Wooden Walking Stick Cane
GC-Artis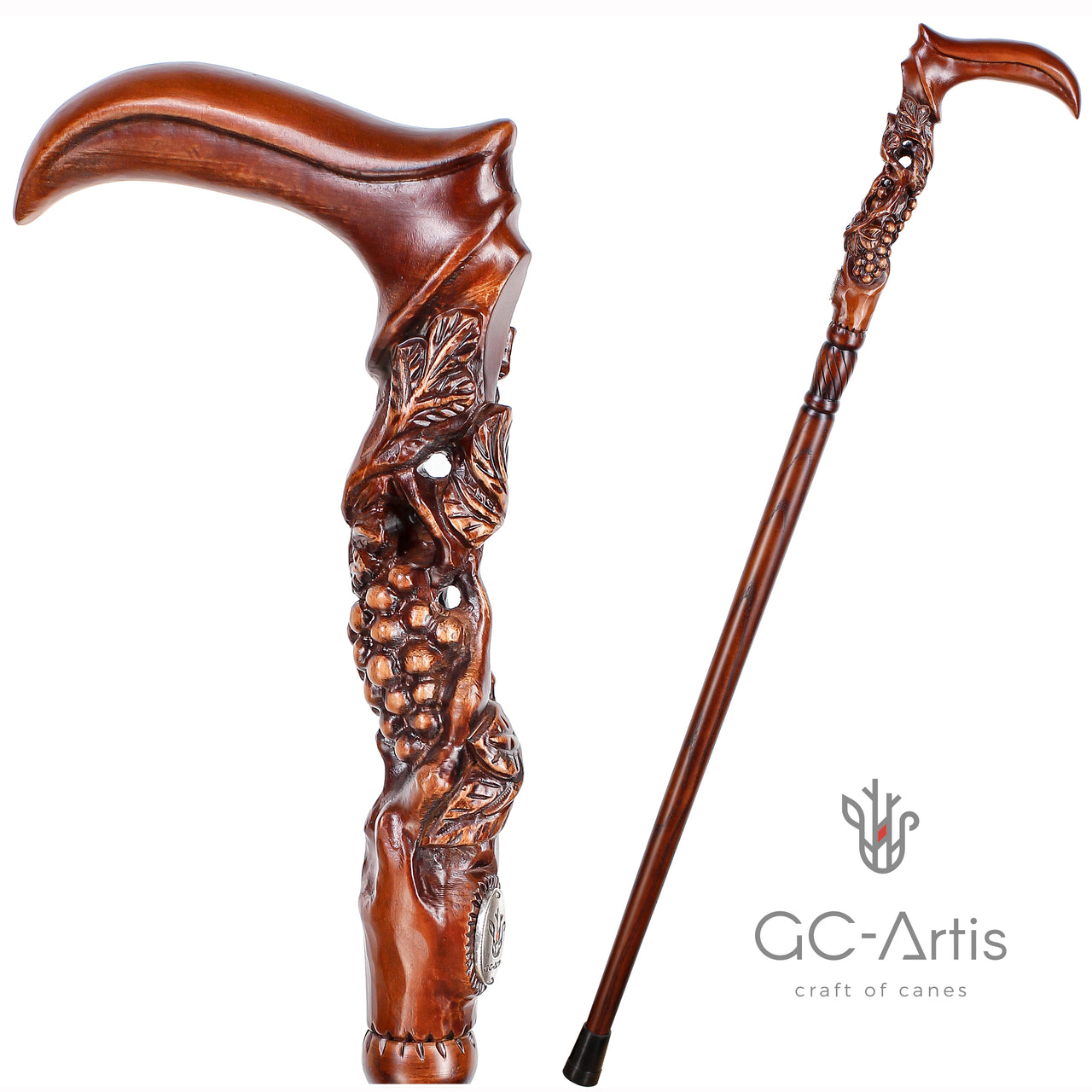 The Grape & Vines - Dark Wooden Walking Cane
Unique designer art Wood Crafted Hand Carved Walking Stick Cane Staff

New, reliable and fully functional handmade Cane Walking stick with ergonomic handle. High craftsmanship and artistic maestroe's woodcarving is really impressive.

This is Amazing Energy Wood Art - art in function!
This Artisan Walking cane Done with love from a natural material and carries a strong energy to its owner.
Designed by GC-ARTIS Workshop, Ukraine (Eastern Europe). ORIGINAL CANE HAS THE METAL MEDALLION with the ARTIST LOGO
SIZE: up to 36'' in length
SUPPORTS: up to 240 lbs
WEIGHT: 450 gram
HANDLE MATERIAL: OAK wood
SHAFT MATERIAL: OAK wood
ARTIST: SHESTOPALOV SERGIY
PROCESSING: Woodcarving
USE: unisex, well for men & women, for right hand& left hand
FUNCTION: This wooden walking stick well for ladies & gentlemen, men & women, old elderly people like for an art collectors or they who looking for a and best gift idea to Birthday, Father's / Mother's or Veteran's day. It may be used like an fashion accessories underlining individual style at walking on city streets, at walking on wild district & mushroom hunting, for Protection against wild animals and like an a pleasant walking instrument companion. Also this hand carved walking cane will be unusual props for an original photo / video set, theater or movie staging & stylish accessory for a costume party.
COMPOSITION: The Vine and Grapes archetype are related both to the principle of plenty, strong will and luxurious enjoyment in releasing control.

Dionysius, the God of lush growth, flowing ferocity of wild creatures and the propagating power of sexual urges in procreation is the god of wine - grapes and vine.
The Vine plant itself is a strong growth climber plant, clinging in a flowing ascending manner unto the steepest of surfaces, offering grapes - a symbol of the rich and luxurious wine.
Thus - the message of this walking stick is a demonstration of keeping ones' grip over and through plenty, strength of will in growth as well as the ability to let go of control and enjoy the Dionysian pastime of wine drinking - as well as baroque aesthetic demonstration of carving superior art - the richness of life, carved into dark deep hued strong oak.
This walking stick owner, by using this richly engraved cane of abundance, demonstrates a balanced life path of leisure and procreative control in action.
Materials: wood, wooden, oak, hard wood, solid wood
-----------------------------------------------------------------------------
Caution! This walking cane is a fully functional & probably it more convenient than a most of usual canes but if you have serious musculoskeletal disease or are prone to fall or have suffered surgery after a fracture / insertion of an artificial limb or artificial bone / joint, then we do not recommend to use this cane before consultation and approval by your doctor only