Paradise BIRD GAMAYUN Fantasy Winged Women Cane
GC-Artis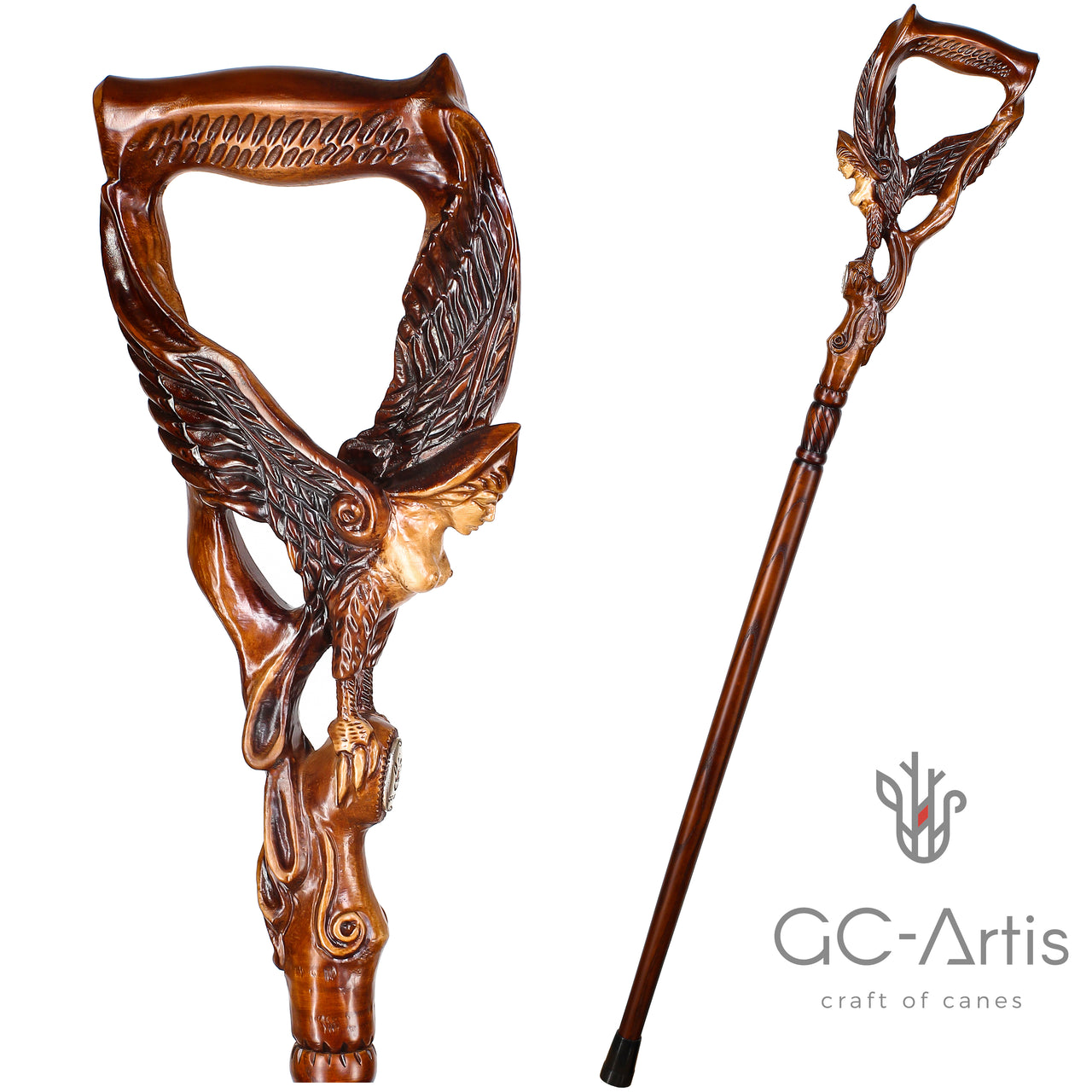 Paradise Bird - Winged Women Syren / Gamayun / Garpia - Dark Cane
Unique Fantasy Designer Artisan wood crafted hand carved Walking Stick Cane
New, reliable and fully functional Wooden Walking Cane this ergonomic handle
This cane has the unusual handle with the figure of the Paradise Bird figure - the Bare chested Female with a fantastic detailed wood carved wings!
Designed & handmade by GC-ARTIS Workshop, Ukraine (Eastern Europe). ORIGINAL CANE HAS THE METAL MEDALLION with the ARTIST LOGO!
This Wood carved walking cane is Folding (made of two parts sections)
It is a real handmade masterpiece - Art in function directly from the Artist woodcarver
SIZE: up to 36'' / 92 cm
SUPPORTS: up to 250 lbs
WEIGHT: 550 gram approx
HANDLE MATERIAL: Solid OAK wood
SHAFT MATERIAL: Solid OAK wood
ARTIST: Maestro SHESTOPALOV SERGIY
PROCESSING: Woodcarving
USE: unisex, for men & women, fits for right hand ONLY!
FUNCTION: This fantasy walking stick well for him & her, ladies & gentlemen, men & women, old elderly people like for an art collectors or they who looking for a best gift idea for his friend, wife, husband, grandfather, grandmother for his Birthday, Father's / Mother's or Veteran's day. Also this handmade walking cane may be used like an fashion accessories underlining individual style at walking on city streets, at walking on wild district & mushroom hunting, for Protection against wild animals and like an a pleasant walking instrument companion. Also this wooden walking cane will be unusual props for an original photo / video set, theater or movie staging & stylish accessory for a costume party.
The unique cane has raised reliability. The master strengthens the handle by means of a wooden pin diameter of 6 mm inside.

COMPOSITION: Reflecting prospects of happiness, prosperity and harmony, The Gamayun or Siren of Slavic tradition is essentially a messenger for peace and sings beautiful melodies. A Female human endowed with birds wings, a symbol of elemental fire and air - she is not merely a bird of paradise by her looks:

the Gamayun lives on an island in the East near the Euphrates River or Eden - representing a connection to nature as a cradle of ultimate harmony of the mundane with the divine - The prophetic Gamayun knows everything that happens in the world as well as within other sphere as well - including those beyond reality - mundane as well as divine realms.
Her wings carry a message of enlightenment, bestowing the ability to exist and draw from every dimension: an ultimate knowledge bearer. The feminine divine sage.
Using this astute solid cane reflects knowledge, both grounded into the mundane, as well as blessed with the ethereal realms of existence - rely on the symbol of Gamayun, as divine knowledge can hold the weight of time with contextual harmony. Commit to respect and draw from the ancients as well as modern, as well as natural brainwaves of the feminine flesh - accept the flow of existence from any dimension as real and practical.
Materials: Wood, Wooden, Oak, Solid wood, hard wood
-----------------------------------------------------------------------------
Caution! This walking cane is a fully functional & probably it more convenient than a most of usual canes but if you have serious musculoskeletal disease or are prone to fall or have suffered surgery after a fracture / insertion of an artificial limb or artificial bone / joint, then we do not recommend to use this cane before consultation and approval by your doctor only