Horse Head Silver Color walking stick walking cane
GC-Artis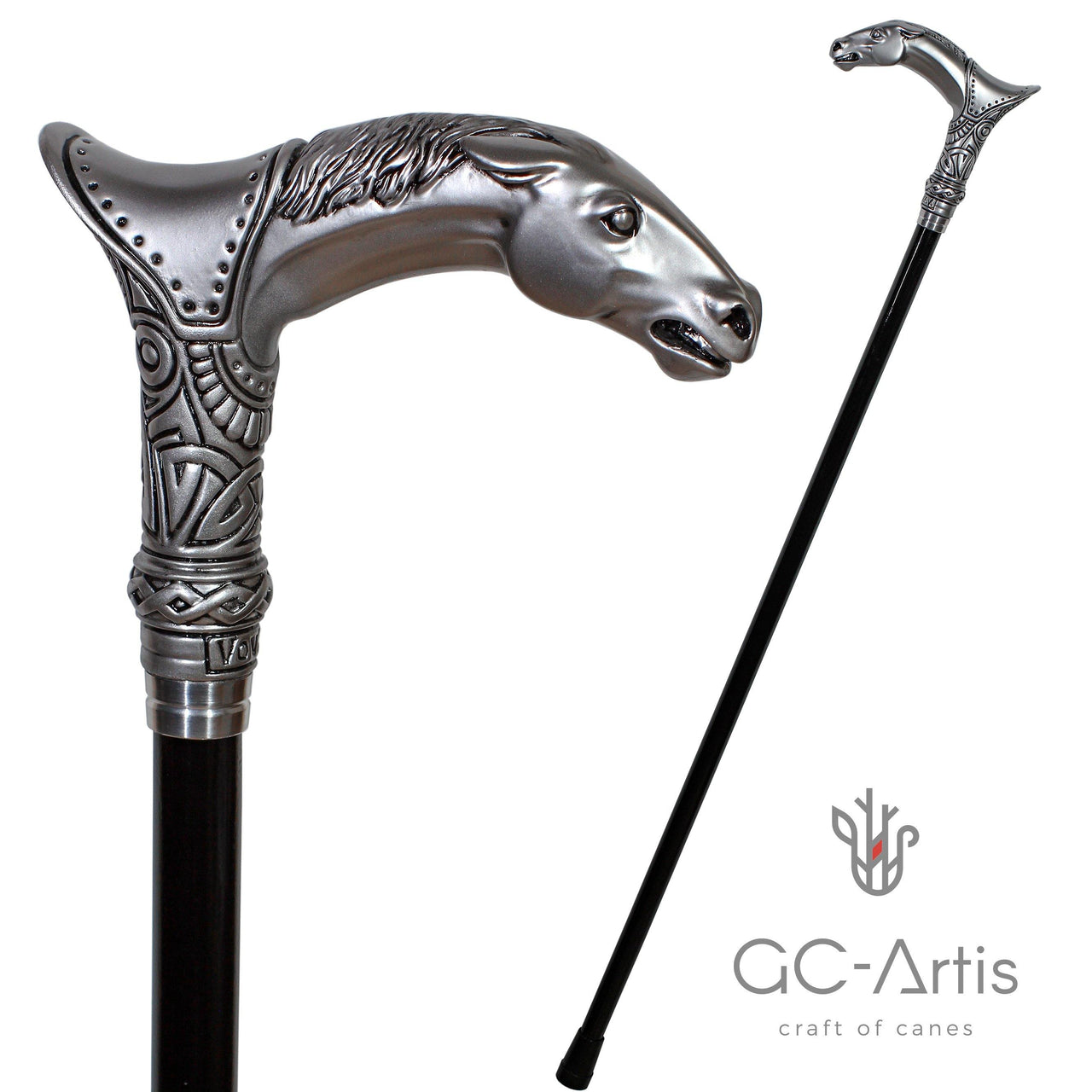 The Horsef Head Silver Color Walking Cane
Designer Walking Stick with Wooden shaft & rubber tip
Designed by GC-Artis Creative Workshop, Ukraine
ORIGINAL cane has the GC-Artis Logo & the Artist's signature on the handle
It is Hand Casted of Art Stone (ECO polymer resin + natural stone powder inside). NOT a plastic! This unique material is not only beautiful and impressive - it is completely safe and poses no harm to the user or environment. It is extremely pleasant to the touch and feels like a heavy cold stone.
This cane consist of two parts: the handle connected with the saft using 8 mm screw connection
SIZE: up to 92 cm / 36 inches in length
SUPPORTS: up to 110 kg / 250 lbs
USE: unisex, well for right-handers & left-handers
HANDLE MATERIALS: Art Stone
SHAFT MATERIALS: Solid ash wood
COLLAR MATERIALS: Brass
WEIGHT: 500 gram / 1lbs  approx
PROCESSING: 100% Manual work including Sculpting, Casting and Vanishing
ARTIST: Ukrainian sculptor VLADIMIR VOVK
FUNCTION: It well for those who use it that wishes to have additional accessories underlining individual style at walking on city streets, that who wishes to receive convenience at walking on wild district and perhaps they who find a Stick useful for Protection against wild animals and they who want a pleasant walking instrument companion. Also it will be excellent addition for you collection or an original gift, movie and theater props, and original holliday, weeding or other party stylish accessories
This cane is not certified as medical so it can be used those who need a support and aged people who might be prone to falls after consultation with doctor only.
CAUTION: Please take care of cane from falling onto a hard surface such as concrete or asphalt, or ceramic tile. It tends to fall if you left a cane to lean on the wall and can get a crack or fracture.
Materials: Art Stone, Wood, Brass, Rubber.