Wooden Skull Walking Stick Sword Cane with Gems, Silver, Gold
GC-Artis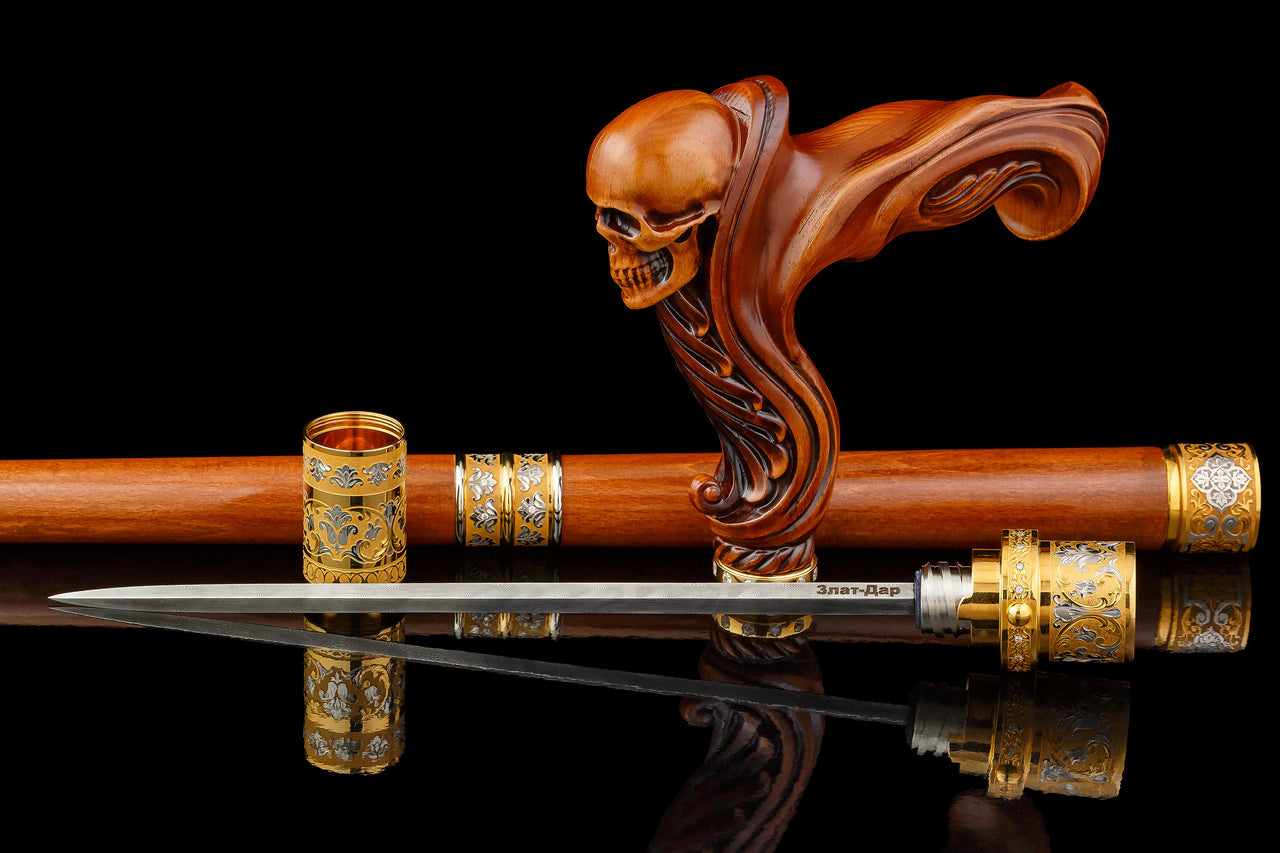 Luxury Human Skull Head Cane Walking Stick with sword / blade blank* inside
* - It sells with blade blank without finish processing and sharpening!
High-quality Stylish Wooden Walking Cane with а secret place in the shaft, real gold, silver plated, gems inlay - Amazing Handmade Masterpiece!
+ 1. Artisan made wood & metall shaft with a secret place inside for hidden wearing a small item of size 1 x 1.5'' approx. as a key, flash memory or etc. and blade
The shaft is reinforced by metal tube inside. The blade is mountain using reliable spring-lifting locking system (one and a half turn thread) and do not has any backlash. Each brass segment of the compound is richly decorated with impressive engraving, precious metals coating (Nickel - 20 microns, Gold 999.9 - 1.2 microns, Silver 925 - 4 microns.) and hans a natural gems inlay.
+ 2. Unique Super Ergonomical Palm Grip form Handle - For Righ-Handers only!
The Skull handle design is created using a cast of clay of a palm of the average man. This is refined to fit for a small female hand and for not too large a men's hand. You will surprised as it perfectly flows around the palm and the support is gorgeous! Probably it will not be as comfortable for the owner as too small or too large a palm but it will be usable too.
+ 3. The Damascus steel blade blank 8 and 1/2 inches long. The blade blank fastens the screw connection for safety and can be replaced or removed. This is not a cold dangerous weapon in accordance with the classification of most countries. This is a souvenir product only does not have a finish sharpening and the blade main is specially weakened for it is impossible to pierce.
CAUTION! I cannot know the laws of every country and I am not responsible for using a cane in the buyer's country. We did everything we could so that this blade can not be used as a dangerous weapon (it is certified and not shaped) and could not harm to any person or animal. The buyer bears full responsibility for the legitimate use of the product in accordance with the jurisdiction and applicable laws of his country, as well as the safe use of the product. If you have any doubts, just remove the blade.
FUNCTION: Fully functional walking instrument for every day use for men & women, ladies & gentleman, like for old elderly aged people who need a support. Best gift idea for her and him ( dad, mom, grandma or granddad ), original present to birthday, Mother's / Father's / Veteran day for art lovers & collectors, as well exclusive fashion accessory or props for costume party, stylish wedding, retro show Burning Man festival, original photo set / video short, theater.
CONDITION: New
SIZE: up to 37 inches / 92 cm in length
SUPPORTS: up to 300 lbs / 135 kg
USE: unisex, well for right-handers ONLY
HANDLE MATERIALS: Solid ASH wood
SHAFT MATERIALS: Solid OAK wood, brass, silver, gold, gems
BLADE MATERIAL: Damask steel
WEIGHT: 3 lbs / 1300 gram approx
COMPLETE SET: Handle, 3 section shaft, Blade, set of 3 metal tips, leather case
Designed in the GC Artis Creative Workshop (woodworking) in coloration with ZD Maestros (forging, metal works, engraving)
-----------------------------------------------------------------------------
RECOMMENDATIONS:

Recommendations for use
1. Please take care of cane from falling onto a hard surface such as concrete or asphalt, or ceramic tile. It tends to fall if you left a cane to lean on the wall and can get a crack or delicate details or fracture. So we recommend to use a hand strap.
2. Before use, make sure the screw connection is tightly screwed. Otherwise, you may get unstable support or damage the cane. This connection is designed for convenient shipment or transportation of a walking stick when traveling in luggage is not often only. But this is not intended for every day assembly / disassembly. The meteoric thread can become weak after a frequent cycle of twisting and untwisting.
3. Please check that you are leaning on the cane correctly. The main force should be directed as close as possible to the shaft but not the rear end of the handle. Incorrectly positioning can cause shaft bend and discomfort and even breakage of the shaft.
4. Use the right tip. Each GC-Artis cane has a standard, NOT medical, summer rubber tip in a set. If you need a winter tip or a medical one (made of softer material provides enhanced cushioning) you should buy it additionally at medical store. Also use soap or candle wax to put a rubber tip on easily.
Sizing recommendations
1. The optimal length of the cane is a very individual parameter. It depends not only on your height but also on the length of your arms, the posture, the manner of walking and the thickness of the soles of the shoes you wear.
2. Usually we propose to send the standard 36 inches length walking stick cane. If necessary, you can shorten a wooden shaft on a place easily using any saw. You'll receive the rubber tip in the set which hide any traces of cutting. It is a good idea to use a paint tape to protect the wood from splitting while cutting off the shaft (wind the shaft above the cut-off point).
3. But If you want me to cut your cane before sending, please try to determine the optimal length very accurately using standard method you will find in Google, but do not remind to consider thickness of your shoes sole! It is easy to make it short but very hard to make longer again.
Storage and care recommendations
1. We do not recommend to storing the cane near a heating appliances and in the hot sun. The wooden parts can become more brittle with excessive drying, and this can lead to a crack at high load.
2. Each walking cane made by GC-Artis has a professional varnish coating which protects against common atmospheric phenomena like light rain or any short-term wetting with non-aggressive liquids. But increased moisture for a long time or immersion in water can lead to deformation of the wooden parts. Contact with aggressive chemical liquids and solutions can destroy the varnish coating.
3. We recommend to use warm water with a soap solution or any certified cleaning agent for wooden goods and furniture to clean your cane. It's safe. After cleaning, wipe with a dry cloth. Also we recommended once a year to polish the surface of the cane in order to restore the gloss of lacquer coating and to remove plaque oxidation from metal parts and minor scratches. Use professional products for polish.
--------------------------------------------------------------------------------
Materials: Wood, Wooden, Gold, Silver, Brass, Bronze, Steel, gems, gems inlay, leather.
-----------------------------------------------------------------------------
Caution! This walking cane is a fully functional & probably it more convenient than a most of usual canes but if you have serious musculoskeletal disease or are prone to fall or have suffered surgery after a fracture / insertion of an artificial limb or artificial bone / joint, then we do not recommend to use this cane before consultation and approval by your doctor only